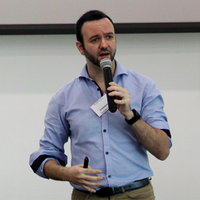 This Much I Know (About Design Research): Emmanuel Tsekleves
This Much I Know (About Design Research) is an interview series that profiles members of the DRS. In this edition, we spoke with Emmanuel Tsekleves about his design research and current projects. Emmanuel is senior lecturer in design at Lancaster University, associate director for international research at ImaginationLancaster, DRS Interim Advisory Council member and co-convenor of the DRS Global Health SIG. He is recognized for his work on community health and the strong international focus in his research.
What projects are you currently working on?
My collaborators and I just finished a project on inclusive policy for seniors in Malaysia in collaboration with the Ministry of Women, Family and Community Development. We explored how design research methods can help governments anticipate change and engage the community.
Can you give an example?
Sure—we focused on training civil servants and community champions in the use of speculative design. These partners ran speculative design workshops with senior citizens to imagine new approaches to public transport for seniors.
What's next for you?
I'm still involved in 5 other research projects! And I'm busy with a new book Design for Global Challenges. It'll be part of the Design for Social Responsibility series at Routledge.
What drives your research?
Face-to-face meetings and connections with people—being able to work with my research partners in communities all around the world. Sadly that's gotten a lot harder lately.
Who are your research partners?
We're a multidisciplinary and international group with design researchers and folks with expertise in health, epidemiology, developmental sciences and social science. We've been working with local partners and communities in Ghana, Angola, Cameroon and Malaysia to tackle sustainable development challenges related to health. Another important partner is the Women Economic Imperative—we've worked together on a project looking at gender health and women's health as an economic value.
Do you have advice for other researchers?
I once asked a research participant what he needed from a project and he said: "for you to come back." Think long term in your research and make sure it can have a lasting impact for your participants.
You're also heavily involved with the DRS!
Yes—it's an important community and a way to collaborate for the common good. Expanding the Society's international agenda and engaging health and design researchers beyond the Global North to the Global South are the main reasons I joined the DRS community and created the Global Health SIG.
Any parting words to share with our members?
We need to push ourselves to innovate, find new ways of doing things, and find new ways to make an impact. I strongly believe that's our responsibility as designers and as researchers.
Find out more about Emmanuel and his work at http://imagination.lancaster.ac.uk/person/emmanuel-tsekleves/
Interested in getting involved in this interview series? Tell us about your work or nominate another researcher. Contact Isabel at editor@designresearchsociety.org.
---