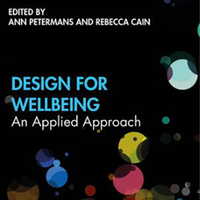 New Publication from SIGWELL — Design for Wellbeing: An Applied Approach
On behalf of SIGWELL (the DRS Special Interest Group of Design for Wellbeing, Happiness and Health), we are excited to announce that our first book Design for Wellbeing: An Applied Approach has now been published in print. This book has never been more timely, as humankind is witnessing an ever-increasing ambition to live long, happy, healthy and flourishing lives. Design has an essential role to play here, in delivering wellbeing in all its forms. Design for Wellbeing charts the development and application of design research to improve the personal and societal wellbeing and happiness of people. It draws together contributions from internationally leading academics and designers to demonstrate the latest thinking on the design of products, technologies, environments, services and experiences for wellbeing.
We had the pleasure of chairing a SIGWELL conference paper track on Design for Wellbeing at the DRS2016 conference in Brighton, UK. Following the presentations, Professor Rachel Cooper came over and asked if we might like to edit a book on design for wellbeing as part of her Design for Social Responsibility series. Of course we jumped at the opportunity, and three years later, we are so pleased to see our project conclude in the publication of our printed book!
As Rachel Cooper in her preface to the book writes:
"I am pleased to have supported Rebecca Cain and Ann Petermans in contributing this volume to the series, building a theoretical, practical and very useful reference text and baseline for future work on 'Design for Wellbeing'".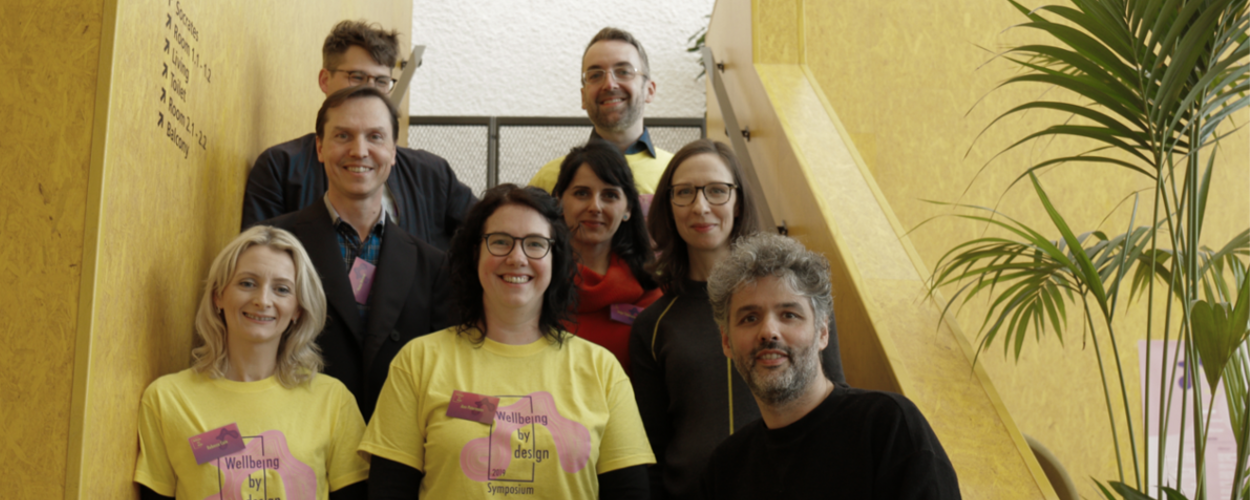 Above: SIGWELL board members at the 2019 DRS SIGWELL Colloquium, TUDelft
The foundations of the book started with many of the papers which came out of the DRS2016 SIGWELL conference track, and we also included invited chapters from other experts in the field. We were honoured to have such a good response to invitations to contribute to the book, which represented the current breadth of applied research in designing for wellbeing. The book is structured in four parts. Part I sets the scene on design for wellbeing with a general introduction to the field. Part II explores specific domains in wellbeing including designing for living with dementia, ageing in place, social connectedness and social interaction in the design of interior environments, future travel and healthy eating for behaviour change. Part III explores tools, methods and approaches for design for wellbeing, including co-designing, creative methods, scenario card games, social practice approach and dilemma thinking. Part IV concludes with a look forward to the future challenges of design for wellbeing in the contexts of mental health, housing in later life and international perspectives.
This edited collection is the first book delivered by SIGWELL, and highlights the international community already involved in research on design for wellbeing. SIGWELL is an international community of design researchers interested in design for wellbeing in its broadest sense. SIGWELL is currently chaired by Ann Petermans and was founded and previously chaired by Rebecca Cain. SIGWELL invites design researchers to come together around design for wellbeing research events, publications and special tracks at DRS conferences.
Read more about SIGWELL here https://www.designresearchsociety.org/cpages/wellbeing-happiness-sig
Design for Wellbeing: An Applied Approach is published by Routledge and is available here https://www.routledge.com/Design-for-Wellbeing-An-Applied-Approach-1st-Edition/Petermans-Cain/p/book/9781138562929
It is part of the Design for Social Responsibility Series https://www.routledge.com/Design-for-Social-Responsibility/book-series/DSR
Authors
Rebecca Cain, SIGWELL Founding Convenor; DRS Interim Advisory Council Member; Professor, Loughborough Design School
Ann Petermans, SIGWELL Convenor; Professor, Hasselt University
---