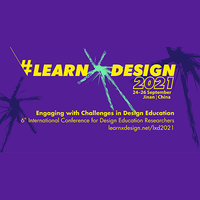 Learn X Design 2021 Announcement
The DRS Special Interest Group in Design Pedagogy (PedSIG) is delighted to announce that Learn X Design 2021 will take place 24–26 September 2021, hosted by Shandong University of Art & Design, China.
Learn X Design: International Conference for Design Education Researchers is a biennial conference series from PedSIG. This will be the 6th Learn X Design conference. It follows the 2019 event hosted by METU in Ankara.
Full Paper, Workshop, and Case Study submissions for Learn X Design 2021 are due 23rd March 2021. More details will be available on the conference website as the event approaches: https://learnxdesign.net/lxd2021/
---