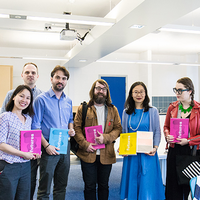 Conference Report: DRS InclusiveSIG Symposium 2019
In June 2019, the DRS Special Interest Group 'Inclusive Design Research' (InclusiveSIG) organised a half-day symposium on inclusive design and making at Brunel University London. The event was hosted by Dr. Busayawan lam and Dr. Youngok Choi from Brunel University. It had about 30 attendees from the UK, China and Turkey.
The symposium included presentations from local and international inclusive design researchers. The image above shows the speakers and symposium hosts. InclusiveSIG Convenor Prof. Hua Dong from Loughborough University spoke about the historic evolution of inclusive design. She also introduced a new book Inclusive Design: Chinese Archive (Tongji University Press, 2019), which addresses the 6Ps of inclusive design research: principles, processes, projects, pedagogy, people and publications.

Above: Photo from the inclusive design symposium in London
From Brunel University, Dr. Eujin Pei introduced disruptive ideas on additive manufacturing for inclusive design and Dr. Vanja Garaj spoke about a newly funded project on inclusive design of immersive reality. Dr. Christopher McGinley from the Royal College of Art presented recent case studies in the field. Finally, Dr. Abdusselam Selami Cifter from Mimar Sinan Fine Arts University gave a superb talk on a web-based platform that promotes accessibility in design.
As a whole, the symposium highlighted current thinking on inclusive design research and practice in China, Turkey and the UK. Applications of new technology and community collaboration emerged as important topics. To follow-up, the DRS InclusiveSIG is planning another symposium at Loughborough University in October.
Author
Hua Dong, InclusiveSIG Convenor
---