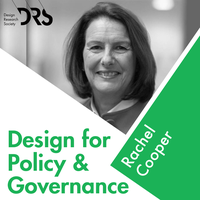 In association with ImaginationLancaster, the Design for Policy and Governance Special Interest Group has launched a podcast series dedicated to exploring innovation at the crossroads of design, policy & governance, and the built environment. Join host Scott Schmidt with Marzia Mortati and Louise Mullagh as they interview leading design academics and practitioners such as luminaries Rachel Cooper and Christian Bason. Each episode will include a discussion with guests on their career, current projects, and where they see the future of design research heading.
In the first episode, Rachel Cooper sits down to discuss her pioneering and always vibrant career. We work through her vast body of work and how she finds the energy to get everything done... there is a lot. Rachel describes her work history and what it was like talking about the intersection of policy and design when no one else was. The early beginnings of ImaginationLancaster and what makes it such a special place in the world of academia and design is discussed. We talk about non-traditional backgrounds moving into the field of design and how the pandemic has brought about rapid change. And we conclude by talking about the future of design research and where it might go from here. We were very excited to have Rachel as our first guest and found the conversation fascinating. Click here to listen.
By joining PoGoSIG you will automatically be added to our bi-monthly newsletter and Slack channel for the latest events and research being conducted on design led policy and governance. To join PoGoSIG or find out more about how to co-host an event with us, please contact Scott Schmidt at PoGoSIG.DRS@gmail.com.
---