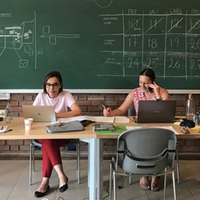 Plans for Learn X Design 2019
Excitement is building for the fifth biannual DRS Learn X Design conference, which takes place next week at the Middle East Technical University (METU) in Ankara, Turkey. Learn X Design conferences focus on research in design education and are organised by the DRS Special Interest Group in Design Pedagogy (PedSIG) and the host institution. The theme this year is insider knowledge, which refers to knowledge and experience that build into collective practices.
We're thrilled to announce three keynote presenters, Gabriela Goldschmidt, Zeynep Çelik Alexander and Halime Demirkan. They'll address topics like disciplinary knowledge, Bauhaus traditions and learning styles. In addition to the keynotes, there will be a PhD Pit-Stop event, workshops and three days of paper presentations. Check out the conference program here: http://drslxd19.id.metu.edu.tr/programme/
The conference has broad participation—attendees are expected from 65 institutions and 27 countries around the world! Learn X Design conferences also have good gender balance. We're avoiding the dreaded 'manels'!
Follow the conference on Facebook, Twitter and Instagram for regular updates.
---