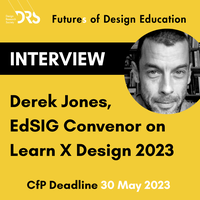 This year, the DRS's Education SIG is trying something different for their biennial LearnxDesign conference. Instead of holding a conventional conference, the LearnxDesign CfP, on the theme of 'Futures of Design Education', is taking the form of proceedings only. We sat down with Derek Jones, EdSIG convenor, to learn more about the theme and format for LearnxDesign 2023, EdSIG and how to get involved.
How did you come up with the theme 'Futures of Design Education'? Why is it important to address this theme now? On the same note, how did you choose the sub-themes and what do you hope might be explored in each?
The idea for the theme came directly from the success of the discussion series of the same name, Futures of Design Education. This series invited design educators from a range of backgrounds and contexts with the aim of raising awareness of the plurality of design education practices that exist.
The series has featured some incredible educators and highlights that design education most definitely benefits from this plurality. All the recordings are available here.
It's fair to say that most of the Convening Group have been influenced by this series and the sub-themes in the Call reflect this influence as well as coming from individual Convenors' interests.
How does this year's publication build on past LearnX conferences?
EdSIG has organised conference proceedings biennially since 2011 and we felt it was important to keep this publication opportunity for design educators. Members told us that they use Learn X Design as a target for writing and we hope that this will keep that pattern going. We also intend to ensure the quality of contributions remains high.
What do you think are the benefits of having a CfP for a proceedings document over a more traditional conference format?
We are hoping that this will allow us to focus on the writing, editing and publication process more directly. If there is enough interest, we hope that we will be able to support other events to discuss the academic writing and reviewing process. The quality of our research in design education depends on our collective capacity to support an academic community at all stages, writing, reviewing, editing and supporting publishing and dissemination.
Can you tell us a bit about the other members of the EdSig Convening Group? How are they involved in the CfP, paper reviews and proceedings publication?
We are a really collaborative group and we tend to do most things collectively (that was really the plan when we changed to EdSIG a few years back). We will all be involved in all aspects of the Call process and, as the process goes on, we'll keep an eye on the response we get to see if we need to rearrange things.
The EdSIG Convenors are:
Derek Jones, The Open University, (UK)
Liv Merete Nielsen, OsloMet, (Norway)
Nicole Lotz, The Open University, (UK)
Lesley-Ann Noel, North Carolina State University, (USA)
Naz A G Z Börekçi, Middle East Technical University, (Turkey)
James Corazzo, Sheffield Hallam University, (UK)
You can find out more about us here: https://www.designresearchsociety.org/cpages/design-pedagogy-sig
Visual submissions to academic publications are a relatively new development in the field. Can you go into more detail about what you expect to see from visual submissions? Can you reference any existing publications that have employed visual submissions?
Learn X Design 2021 featured a number of innovations led by Erik Bohemia and one of these was the introduction of visual papers. But LxD 2021 also had a Track dedicated to visual methods (Sketching and Drawing education and Knowledge), led by Bryan Howell. This gave delegates the chance to not only submit visual material but to also treat it seriously as a component of knowledge and research and I really loved the blend of both in the track.
If you get the chance, have a look at Track 7 in the 2021 Proceedings: https://dl.designresearchsociety.org/conference-volumes/52/
You can read Bryan's Track Editorial here: https://dl.designresearchsociety.org/learnxdesign/learnxdesign2021/editorial/9/
The two visual papers that stood out for me were:
Learning remotely through diversity and social awareness: The grand challenge approach to tackle societal issues through diversity and creative thinking
and
Sketchnoting experience of first-year students
What other activities or events does EdSig run? If someone is interested in getting involved, how do they get in touch?
As noted above, we organise the Futures of Design Education discussion series and this has now hosted 21 talks from a range of international educators. All the recordings are available here.
EdSIG also organises tracks around education for the main DRS conference series, and this usually involves 2 or 3 tracks, representing how important education is to the design research community.
We are always keen to hear from anyone wanting to get involved - just contact Derek Jones derek.jones@open.ac.uk
---