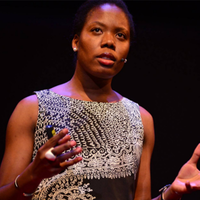 This Much I Know (About Design Research): Vernelle A. A. Noel
This is the second interview in a new series for the DRS online called This Much I Know (About Design Research). Each article in this series profiles an interesting DRS member to highlight their work and reflections on design research. This time we spoke with Vernelle A. A. Noel about her research on craft practices and computation.
Vernelle is an architect and PhD researcher at Penn State University in the USA. Her work is at the intersections of craft, design, computation and culture. Originally from Trinidad & Tobago, Caribbean culture and design are central in her work. Her current project explores the Trinidad Carnival and wire-bending craft traditions. She uses computation to help revive wire-bending practices and reinterpret them for application in architecture.

Why have you focused on Carnival?
Carnival is an important part of Caribbean history, culture and design. French planters introduced it to Trinidad in the 1780s and newly emancipated slaves reinvented it in the 1830s as a way to celebrate their freedom and creativity. Although it takes place once per year, people spend all year preparing! The festival includes a parade and serious music and costume competitions.
How is your research related to Carnival?
My research explores Carnival through a design lens. I'm troubled by the mass-production of costumes, which arrive ready-made from abroad. Design and making traditions risk being lost, so I try to re-engage people in these processes.
What is it about wire-bending?
Wire-bending is a beautiful local craft that's incorporated in Carnival costumes. The details are astonishing! However, it's a difficult and labour intensive process done mostly by men.
How are you encouraging people to engage with wire-bending?
I've been exploring how wire-bending can be reinterpreted through computation and digital technology, which I believe will help increase access to the craft, especially for women and children. I also have a background in architecture, so I'm investigating the application of wire-bending in architectural form.
What are the outcomes of your research so far?
I've been able to make wire-bending knowledge explicit and hold craft workshops. Youth seem engaged by computational making and the technology facilitates collaboration. Wire-bending is usually a solitary activity, so it's exciting to consider the possibilities of group making. I've also been experimenting with wire-bending and developing prototypes (images above).
What do you think about the DRS?
Community is very important to me, so I love that the DRS brings together a strong design research community.
What design researchers are especially inspirational in your work?
I draw on theorists like Nigel Cross and Michael Reddy, but one of my biggest inspirations was my professor Lucienne Blessing. She taught a course on design research, which helped me understand the field.
How can readers learn more about Caribbean design?
I enjoy reading Maco, a Caribbean design and lifestyle magazine.
Interested in getting involved in this interview series? Tell us about your exciting work or nominate another researcher. You can contact Isabel at editor@designresearchsociety.org.
---