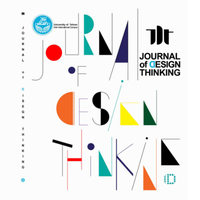 The Journal of Design Thinking and its First Call for Submissions
There is a growing list of great new design research journals, with She Ji and Sciences du Design (est. 2015) as prime examples. The most recent addition is the Journal of Design Thinking (JDT), dedicated to academic study of design thinking, creativity and cognition, as well as the broader topic of industrial design. Dr. Yassaman Khodadadeh, Editor-in-Chief of JDT, kindly spoke with us about her vision for this new journal. Khodadadeh is an Associate Professor of Design at the University of Tehran – and was, in fact, the first person to hold this faculty position in Iran!

Top Left: University of Tehran during a workshop with TU Delft | Top Right: Dr. Yassaman Khodadadeh
What are your hopes for JDT?
The goal is to provide a valuable publication space for researchers worldwide and provide a possibility for exchange of ideas.
How does JDT compare to other journals, locally and globally?
The JDT is the first International specialized design research journal based in Iran. However, it aims to contribute to high quality design research at international and national levels.
With these impressive goals in mind, Khodadadeh and the JDT editorial board have announced the call for papers for their first issue:
In preparation for the first issue of the Journal of Design Thinking, we invite submissions on design thinking, design practice, the relationships between design theory and practice, reflective practice and conceptualization challenges. Please submit a paper title, abstract (max. 300 words) and author bio by February 20, 2019. Submissions must be sent by email to Alma Zanjanian, JDT Executive Director, at jdt@ut.ac.ir.
We will evaluate abstracts through blind review and invite authors of accepted abstracts to submit a manuscript at a later date.
---