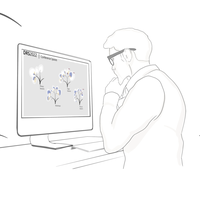 Caroline Häger is a recent graduate of TU Delft's master's programme in Design for Interaction, having just completed her thesis project exploring the future of academic conferences, using the DRS as a case study. Noting the relevance of her research to our upcoming hybrid conference in Bilbao, Häger has been a regular attendee at DRS2022 planning meetings, and we are pleased to now be able to share her research with the DRS community. We caught up with Häger to ask her a bit more about her background in design research, the goals and aims of her thesis project and the impact of her findings.
Häger created a short video explaining her research and outcomes.
What is your background in design research?
I started my design research journey with my bachelor's in Industrial Design Engineering at The Hague University of Applied Science. Afterwards, I was intrigued to learn more about how to gain a deep understanding of people's thoughts, experiences, and behavior in relation to a specific context in order to design products and services in future that are meaningful to people and their environment. Because of this, I decided to start my master's in Design for Interaction at the TU Delft, which has greatly helped me to fill in the gap of understanding people's perceptions through design thinking and methodology.
Tell us a bit about the story behind your project.
Our society and the environment in which we interact with one another is in a fast pace. Being faced with constant social, political, technological, economical, and environmental changes affects the way we live and interact within this world. It is our responsibility to respond to these changes and adapt accordingly in order to create a better future. This also applies to academic societies, like the DRS, and their conferences. The past solution space of the DRS conference offered great opportunities for the facilitation of discussions, exchanging and creating knowledge, and for its members to socialize and connect. However, conferences also come with costly and wasteful consequences, affecting the carbon footprint with excessive amount of travels and usage of resources. Also, current conference formats do not address different needs of people from diverse backgrounds for an inclusive space.
Due to recent developments in climate change, inequalities, pandemics, and diverse work-life situations, and especially due to its internationality, the DRS can highly benefit from a design vision that investigates future needs. The DRS wants to address these different needs and act responsibly by offering a hybrid space, providing members with face-to-face and online interactions. My graduation project explored the possibilities of scientific conferences' future evolvement and involvement by looking at future developments and needs in our society as well as investigating how and to which extend hybridity should be incorporated for a redesign of the overall interaction space.
What do you think the future is like for hybrid conferences?
Through interviews with design researchers and conference organizers as well as studying existing literature on scientific conferences, I identified three main driving forces that play a role in the development and purpose of conferences in the future:

1. Relevance and awareness of inclusion in which we need to provide safe and flexible spaces for people to be and feel included.
2. Relevance and awareness of impact as academics in which we need to stimulate responsibilities of academics.
3. Enhancing this inclusion and impact through technology by making people aware of other people and content with better becoming algorithms, multi-modal systems, and tracing of activities.

Due to these opportunities that arise from the three main driving forces, the goal for the new conference experience is to provide people with a visual space and format that supports lively, flexible and spontaneous participation on the one hand and inspire people with an overview of content, thoughts, and people, using hybrid technology. This does not only provide an inclusive space for diverse people to participate but also stimulates people to look at the bigger picture of valuable thoughts, insights and issues during the conference in order to consider aspects beyond their personal and professional bubble.
How do you think your research will impact DRS2022Bilbao?
As I was able to join the meetings with the organizational team in the past seven months, I could inspire them with my research outcomes along the way. I don't think that my concept can be fully realized for the DRS2022 but parts of it can be developed gradually with each conference. For the DRS2022, I think some principles of my ideas can be applied, such as making the experience more visual, providing flexible admission, or creating sessions in which participants are able to reconnect with the real world, such as dialogues with design practitioners.
You can find Häger's full thesis at this link.
---