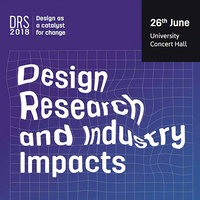 Reflection on Keynote Debate 1: Design Research and Industry Impacts
As a follow-up to DRS2018, we invited conference participants to reflect on the keynote debates and related conversations that took place during the conference. The article that follows responds to debate 1 - "Design Research and Industry Impacts: Exploring the changing nature of design research and practice within academia and industry." It was prepared by Chris Hammond (IBM Design) & Joyce Yee (Northumbria University), track chairs of "How Organisations Employ Design as a Vehicle for Change" at DRS2018.

The Impact of Design Research on

Organizational Culture Change in Industry: Lessons from DRS2018
On opening day of DRS2018, we heard that design is a key component of Ireland's innovation agenda and that 20% of Ireland's exports are design-driven. In the opening keynote debate exploring the changing nature of design research and its practice within academia and industry, Professor Paul Rodgers stated that designers are "facilitators of change." Lorna Ross added, "design is like science, it is a tool for understanding as well as for acting." In the two sessions of our curated track "How organisations employ design for change," we heard no shortage of case studies documenting the adoption of design to create increased value and differentiation. These studies featured a range of organisations: from large, multi-national companies to small businesses.
It is evident that design brings value to organizations. The notion of changing culture through design is widespread but not well understood. Research typically focuses on methods to create better goods and services, but little exists on how organizational culture has evolved and what tactics were used to create new realities for employees. We observed this gap in our own track; few papers directly presented concrete evidence to the theme of long-term sustainable organisational change. Additionally, the majority of papers were overwhelmingly from academic researchers, not practitioners in the field. There seems to be significant interest on this topic, but the lack of practitioner papers and attendees suggest limited design research impact on industry.
The lack of academic research impact on industry practice isn't a new problem and is not limited to design research. This gap reflects the realities of the different practices and cultures - not a lack of trying. Many academic papers are made inaccessible through a pay wall subscription format. But, impact on practice is an increasingly important issue. We need critical and long-term study in this field of growing importance for design. It would also help inform the research impact agenda in the UK and elsewhere. So, how do we encourage more interactions and engagement between design researchers and practitioners? How do we ensure we focus on evidencing long-term sustainable change while also responding to the changing needs of industry?
In industry, design research involves making as a key research approach. We advance our understanding by not only tracking and understanding an ongoing phenomenon, but in participating in it - by prototyping and creating new future experiences and evaluating their impact. Investigation, understanding and framing are all important moments in design, but it is not until we make new experiences that we can begin to measure and assess the improved future state. This focus on action can create more meaningful interactions between academic researchers and practitioners.
How might we plan experiments to inform knowledge on the topic? Where can we study long-term change over time? What other formats might bring about more meaningful interactions? Would organisations host a 'researcher-in-residence'? Could the DRS as a traditionally academic-focused society be opened up to design researchers practising in industry or act as the bridge? Do we need intermediary organisations like think tanks to 'translate' research with industry, similar to the policy sector?
Current forms of research dissemination don't have the desired impact on industry. What can we as a community do? With the current discourse on decolonising design and the re-evaluation of our existing frames of reference relating to design knowledge, it seems an opportune time to ask how we are using this knowledge to better inform practice. Effective organizational change requires a diversity of experiences and skills. As a community, what experiences need to be shared and how do we advance the research and the practical application? We're ready to start. Help us to build a community of organisational change for academics and industry!
Authors
Chris Hammond, IBM Design
Joyce Yee, Northumbria University
---