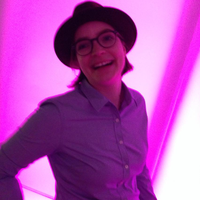 New Online Editor
Hello—I'm the new Online Editor for the Design Research Society! My name is Isabel Prochner and I'm a design researcher based in Montreal, Canada. I love the sense of community that develops around design research and at DRS events. Together with the DRS communications team, I'm looking forward to fostering this community year-round. My goal is to engage members from across the world and expand existing networks. I'll also work to make the DRS website and social media accounts (Facebook, Twitter, LinkedIn, Youtube, Vimeo) an even more valuable resource for members.
In the coming year, you can expect: regular articles on the DRS website and social media platforms that showcase the exciting work being done by members and happening in design research; enhanced Events and Jobs and Opportunities sections on the website, making them an excellent source for design research announcements; and community engagement activities to keep the DRS online platforms buzzing.
You can e-mail me with questions or ideas at editor@designresearchsociety.org.
---