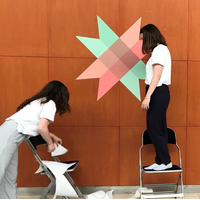 Learn X Design 2019 Logo
The DRS Learn X Design 2019 conference started today in Ankara, Turkey. Here's a fun fact in honour of this big day... Have you noticed the conference logo? It's the red and green 'X' in the image on the left. The design is particularly meaningful and was inspired by colourful geometric figures in Turkish carpets and kilims. The 'X' also represents the in-betweenness of Turkey, crossing continents and bringing together diverse cultures.
Follow the event on Facebook, Twitter and Instagram for more info and updates. Best wishes for a great conference!
---