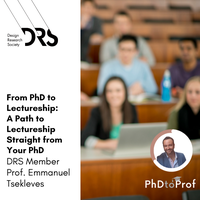 This is the third article in a series from DRS Member Prof. Emmanuel Tsekleves, Convenor of the Design Research Society Special Interest Group in Global Health, on his advice for PhD students and early career researchers. These posts cover everything from writing, networking, finding a mentor, getting a job, applying for a research job, self-care and wellbeing and more. Watch this space for more articles from Prof. Tsekleves, and if you have ideas for a series like this, or want to share your voice with the DRS community, get in touch at editor@designresearchsociety.org.
You do not need a postdoc to get a lectureship. You can go straight from PhD.
What you need is a strong teaching portfolio.
Many believe that a postdoc is essential for securing a lectureship. But hear me out!
Instead of spending years in postdoc posts, focus on honing your teaching skills during your PhD Develop a strong foundation early on.
In this article I will show you seven ways on how you can build a strong teaching portfolio straight from your PhD.
1) Actively seek opportunities to teach & gain experience during your PhD.
During your doctoral studies, actively seek out teaching assistant roles, offer to lead seminars, assist in courses, or even design your own tutorials. Don't shy away from taking on responsibilities that allow you to showcase your teaching abilities.
Additionally, whenever possible, seek interdisciplinary teaching experiences. Engaging with diverse subjects will demonstrate your ability to connect your expertise with other disciplines, showcasing your versatility as an educator and giving you an edge when applying for a lectureship.
Tips and suggestions:
Reach out to professors and department heads to express your interest in teaching opportunities.

Collaborate with other teaching assistants to learn from their experiences and gain valuable insights.

Seek out workshops or training programs that focus on effective teaching methodologies and strategies.
2) Develop teaching materials.
Go beyond the basics of teaching and invest time in designing engaging lesson plans, creating innovative assignments, and crafting clear and concise lecture materials. These materials will not only demonstrate your ability to deliver content effectively but also showcase your dedication to inspiring student engagement.
By developing well-structured and interactive teaching materials, you are showing that you are committed to creating a dynamic and impactful learning experience for your future students.
Tips and suggestions:
Utilize technology and multimedia resources to enhance your teaching materials.

Incorporate active learning techniques and consider different learning styles when designing your lessons.

Regularly update and improve your teaching materials based on feedback and self-reflection.
3) Gather evidence of your commitment to teaching beyond the classroom.
Going the extra mile to demonstrate your commitment to teaching can make a significant impact on your career prospects. Engage in activities that extend beyond your regular teaching responsibilities. For example, organize workshops, lead study groups, or participate in community outreach programs. These experiences will showcase your dedication to making a positive impact beyond the walls of academia, emphasizing your potential as an educator and community leader.
Tips and suggestions:
Seek opportunities to collaborate with educational organizations, schools, or community centers to design educational programs or initiatives.

Document your involvement in extracurricular teaching activities through photographs, testimonials, or project reports.
4) Incorporate innovative teaching techniques and engage in professional development.
To stay ahead in the field of education, explore new technologies, active learning strategies, and inclusive teaching practices. Show that you are adaptable and committed to providing a dynamic and engaging learning experience. Attend workshops, conferences, and training sessions focused on teaching and pedagogy. By actively engaging in professional development opportunities, you demonstrate your commitment to staying up-to-date with the latest educational practices and techniques.
Tips and suggestions:
Experiment with flipped classroom models, blended learning approaches, or gamification to enhance student participation and learning outcomes.

Engage in discussions with experienced educators to learn from their insights and gain inspiration for innovative teaching methods.
5) Collaborate with other educators.
Building relationships with experienced lecturers and educators can provide valuable insights and open doors for professional growth. Network within your academic community and beyond to find mentors or colleagues who can offer guidance and advice. Cultivating relationships with respected educators can vouch for your teaching abilities and provide valuable recommendations or referrals.
Tips and suggestions:
Attend seminars, or teaching-focused events to connect with educators from various institutions.

Participate in online forums, teaching communities, or social media groups dedicated to education to expand your network and engage in knowledge-sharing.
6) Showcase evidence of your teaching effectiveness.
Collect student evaluations, testimonials, and any awards or recognition you receive for your teaching efforts. Seek constructive criticism from both students and faculty, reflect on it, and continuously refine your teaching methods. Highlight positive feedback and demonstrate your impact on student learning. Use assessment data, student evaluations, and examples of student work to showcase the positive influence you have had on student learning outcomes. Quantifiable results will make your portfolio stand out.
Tips and suggestions:
Implement formative and summative assessments to gather data on student performance and progress.

Incorporate student feedback and make adjustments to your teaching practices based on their input.

Share success stories and specific instances where your teaching has made a difference in students' lives.
7) Lastly, compile your teaching portfolio.
Assemble a comprehensive teaching portfolio that showcases your teaching philosophy, evidence of teaching effectiveness, sample materials, and any other relevant documentation. Present your portfolio professionally, making it easy for hiring committees to evaluate your capabilities and potential as a lecturer.
Tips & suggestions:
Organise your portfolio in a logical and visually appealing manner.

Include examples of your teaching materials, such as lesson plans, assignments, and multimedia resources.

Provide evidence of your teaching effectiveness, such as student evaluations, testimonials, and awards.

Regularly update your portfolio to reflect your growth as an educator and incorporate recent achievements and experiences.
A strong teaching portfolio can set you apart from other candidates and demonstrate your readiness for a lectureship role. Don't let the conventional postdoc path limit your potential. By actively focusing on developing your teaching skills during your PhD, you can forge your own path and showcase your passion for teaching straight from your doctoral journey.
In Summary, stand out from the crowd & pave your own path:
- Seek teaching opportunities
- Develop teaching materials
- Teach beyond the classroom
- Use innovative techniques
- Focus on professional development
- Collaborate with others
- Compile a teaching portfolio
Whenever you're ready, there are 2 ways I can help you:
Get a free actionable daily tip on how to secure a tenure-track job in academic by following me on Twitter, LinkedIn and Instagram.
Join for free The Academic Insider Newsletter. Every Saturday morning, you will get ONE actionable tip on how to secure a tenure-track job in academia, in less than 4 minutes.
---