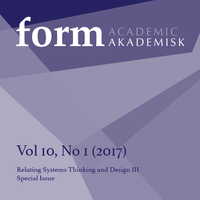 With the new issue of Form Akademisk, we start off our tenth volume. Almost ten years of academic design research have passed since we launched our first issue. This autumn we will publish a special issue to mark the occasion further.
In this new issue of Form Akademisk (volume 10, issue 1), you can explore the emerging renaissance of systems thinking in design. We offer two sets of papers; the first set focuses on frameworks and organizing concepts, and the second set focuses on methods and tools to aid in systemic design. This is the third special issue that we dedicate to systemic design.
We invite you to review the Table of Contents at the bottom of this email and then visit our web site to review articles and items of interest at:
https://journals.hioa.no/index.php/formakademisk/issue/view/235
Please, select the language, English or Norwegian, in the upper right corner marked CHANGE LANGUAGE.
Like and share Form Akademisk at Facebook at:
https://www.facebook.com/FORMakademisk/
Thanks for the continued interest in our work.

Janne Beate Reitan
Editor-in-chief FORMakademisk
Associate Professor, PhD.
Oslo and Akershus University College of Applied Sciences
janne.reitan@hioa.no
---