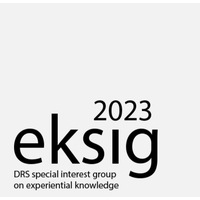 In light of the upcoming Experiential SIG (EKSIG) conference and call for papers, we got in touch with Nithikul Nimkulrat, convenor of EKSIG, to tell us more about what EKSIG does, their past conference series, the 2023 conference in Milan and how to get involved.
Please introduce yourself! What is your research about and role as convenor of EKSIG?
I am Nithikul Nimkulrat, currently working at OCAD University in Canada as Associate Professor and Acting Chair of the Material Art & Design program, Faculty of Design. My current research explores the materiality of analogue and digital material practices from an embodied and phenomenological perspective, focusing how experiential knowledge is generated from within craft processes in the context of practice-led design research. My role as convenor of EKSIG is to facilitate the discussion and development of design research that focuses on knowledge production through experiential learning and the communication of tacit knowledge through artefacts and documentation of creative processes. I provide the international SIG members with a forum for engaging and working actively together via three main activities: 1) the biennial EKSIG conference and its conference proceedings; 2) the EKSIG strand at the biennial DRS conference; and 3) publications in the forms of journal special issues or edited books compiling articles that fall within the scope of EKSIG and are relevant to the interest of the SIG members.

What is EKSIG concerned about? What kind of work does the SIG do?
EKSIG is concerned with the understanding and role of knowledge in research and professional practice in design, in order to clarify fundamental principles of using design practice within research both with regard to research regulations and requirements, and research methodology. Research carried out by the SIG members varies, depending on their professional design practice and research focus. However, the shared interest lies in how design practice can be exercised and examined within the design research context.

Can you tell us a bit about the previous EKSIG conferences? What were their themes and explorations?
The EKSIG conference series was organized for the first time in 2007 at the University of Hertfordshire, UK, and has since been organized every two years in various locations. The themes of all EKSIG conferences have centred around the role and understanding of experiential knowledge in design research and practice. . The archive of the EKSIG conferences can be found from https://eksig.org/conferences.html.

The last EKSIG conference took place in 2019 at the Estonian Academy of Arts. We had a pause in 2021 due to the uncertainty of the situation with the COVID-19 pandemic. The theme of EKSIG 2019 was "Knowing Together – experiential knowledge and collaboration". It explored collaboration within research and commercial teams that comprise creative professionals/researchers (such as designers, artists, architects, etc.) and members with other diverse disciplinary expertise. The aim was to understand how individual experiential knowledge, or knowledge gained by practice, could be shared and how collective experiential knowledge could be accumulated and communicated in and through collaboration as well as how it could be embodied in the outputs and might be traced back to the origin of the practice.

The theme of EKSIG 2017 hosted by Delft University of Technology in the Netherlands focused on the experiential knowledge of designing with emerging materials that are alive, active, and adaptive, whether by means of biological or computational processes or an integration of the two. The conference aimed to illuminate how such materials could be understood and designed and how they could act as a medium in the creation of unique material experiences.

What is the theme of the 2023 EKSIG conference? Why did you choose this theme and what do you hope it will prompt designers and design researchers to think about?
The theme of EKSIG 2023 "From Abstractness to Concreteness - experiential knowledge and the role of prototypes in design research" emphasizes the creation of prototypes as a mean for knowledge production by professionals and academic researchers, exploring the role and relationship of generating and evaluating new or existing knowledge in design and other creative disciplines. This theme was chosen because of the increasing importance of prototypes and prototyping in design research. We hope that this theme will prompt designers and design researchers to think about the current multifaceted landscape of design research that opens to a wide range of meanings that define what a prototype is and does, i.e., the roles of prototypes in design research. Prototypes may support design research in various ways; they may, for example, enable the creation of practical, procedural, or theoretical knowledge and support empirical or speculative research.

Where can people go to learn more about the 2023 conference and how to join EKSIG?
People can learn more about EKSIG 2023 from the conference website, https://www.eksig2023.polimi.it/. To join EKSIG, please contact nnimkulrat@ocadu.ca. DRS members can sign up for Experiential Knowledge Forum at https://www.designresearchsociety.org/groups/experiential-sig.
---