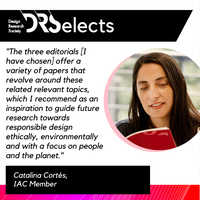 To share research interests, put faces to names within the DRS governance and highlight contents of the Digital Library, the Design Research Society is launching a new series called 'DRSelects'. As part of this series, a DRS International Advisory Council or Executive Board member will share a selection of pieces from the Digital Library that relate to any subject of their choosing. Through their exploration, they will share a few words about the works they've chosen and how it relates to their research and broader DRS initiatives. In this edition, we have reflections from International Advisory Council Member Catalina Cortés.
Please introduce yourself, your role in the DRS and your research.
I am Catalina Cortés, and I work as a researcher at the Design School of Universidad del Desarrollo in Chile. Catalina is a professor at the Design School of Universidad del Desarrollo in Chile and has taught design for 20 years. She has been awarded national and international funds focused on: strengthening the knowledge about design literacies for the general public, studying emergent spatial design thinking processes by ECE teachers, Design Thinking as an approach to solving problems of practice by Chilean school educators, and thedevelopment of tangible interfaces to learn abstract mathematical concepts.
Could you talk about the initiatives you're involved with in the DRS and any upcoming events you'd like to share?
In the DRS, I currently participate in two SIGs, the Education Sig and the Global Health Sig. I am co-editing a book on Design for health in Latin America with the Global Health group that will be released soon. As a part of the IAC, I am participating in the group of the organisation of the DRS2024 Conference in Boston and the Diversity and Inclusion Group.
What are the benefits of being involved with the DRS and how can those interested become more involved in the Society?
Being involved in the DRS has been a motivating experience! I have met many exciting colleagues worldwide and research approaches and interests. I recommend that people interested in participating in the DRS join the SIGs of their interest and become involved in emerging activities. That is a concrete way to explore new areas of inquiry and meet future collaborators.
Tell us about the papers you've chosen for your DRSelects.
I approached my DRSelects as a way to understand my current research interests and how they relate to each other. I selected two editorials of tracks in the DRS2022; Design for Behaviour Change: Taking the Long View Fast by Niedderer et al. (2022) and Design for Wellbeing, Happiness and Health by Petermans et al. (2022). My third selection is the editorial of the track Empowering critical design literacy by Lutnæs et al. (2021) from Learnx Design 2021 conference.
Design for Behavior Change is not new to design research but has connected in exciting ways to intentional design towards the wellbeing and health of people and the planet. Suppose behaviour change studies are focused on health and happiness. In that case, its methods can be used to improve the quality of life of people, which moves towards the common good and away from its criticised use to persuade consumer decisions. These three pieces present a fascinating view of these topics and diverse examples of the research revolving around them.
At this point, I find it relevant to pay attention to the Critical Design Literacy editorial as it promotes the shift towards educating future generations about sustainable design and responsible consumption. Design Literacy is concerned with the creation and understanding of design, which today is fundamental to facing the future responsibly and educating makers and consumers to be critical thinkers.
The last two pieces I chose exemplify applying these intertwined topics in design research. Özkan & Wever(2019) present a case study about introducing repair as part of the product design process in design education. Huerta et al. (2022) explore using ecodesign to train professionals in the packaging industry in Chile to think critically about their production decisions.
In sum, the three editorials offer a variety of papers that revolve around these related relevant topics, which I recommend as an inspiration to guide future research towards responsible design ethically, environmentally and with a focus on people and the planet.
Design for Behaviour Change: Taking the Long View Fast
Niedderer, K., Ludden, G., Desai, S., and Hermsen, S. (2022) Design for Behaviour Change: Taking the Long View Fast, in Lockton, D., Lenzi, S., Hekkert, P., Oak, A., Sádaba, J., Lloyd, P. (eds.), DRS2022: Bilbao, 25 June - 3 July, Bilbao, Spain. https://doi.org/10.21606/drs.2022.1075
Design for Wellbeing, Happiness and Health
Petermans, A., Poldma, T., Cain, R., Ozkaramanli-Leerkes, D., Tonetto, L., Pohlmeyer, A., Hassenzahl, M., Laschke, M., and Desmet, P. (2022) Design for Wellbeing, Happiness and Health, in Lockton, D., Lenzi, S., Hekkert, P., Oak, A., Sádaba, J., Lloyd, P. (eds.), DRS2022: Bilbao, 25 June - 3 July, Bilbao, Spain. https://doi.org/10.21606/drs.2022.1062
Track 02: Empowering critical design literacy
Lutnæs, E.(2021) Track 02: Empowering critical design literacy, in Bohemia, E., Nielsen, L.M., Pan, L., Börekçi, N.A.G.Z., Zhang, Y. (eds.), Learn X Design 2021: Engaging with challenges in design education, 24-26 September, Shandong University of Art & Design, Jinan, China. https://doi.org/10.21606/drs_lxd2021.00.313
Integrating repair into product design education: Insights on repair, design and sustainability
Özkan, N.G., and Wever, R.(2019) Integrating repair into product design education: Insights on repair, design and sustainability, in Börekçi, N., Koçyıldırım, D., Korkut, F. and Jones, D. (eds.), Insider Knowledge, DRS Learn X Design Conference 2019, 9-12 July, Ankara, Turkey. https://doi.org/10.21606/learnxdesign.2019.16117
Integrating ecodesign in food packaging solutions for EPR compliance in Chile: Knowledge transfer from theory to practice
Huerta, O., Cortés, C., and Melo, C. (2022) Integrating ecodesign in food packaging solutions for EPR compliance in Chile: Knowledge transfer from theory to practice, in Lockton, D., Lenzi, S., Hekkert, P., Oak, A., Sádaba, J., Lloyd, P. (eds.), DRS2022: Bilbao, 25 June - 3 July, Bilbao, Spain. https://doi.org/10.21606/drs.2022.241
---