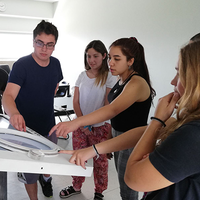 DRS Student Research Bursary Winners 2018
The DRS Student Research Bursary Awards support design research projects by DRS Student Members. In 2018, the DRS awarded seven bursaries of 500 GBP, which supported a range of projects from students working in the UK, France, Chile and China. A DRS Council panel selected the winners based on project quality, value for money and project impact.
The following are three winning projects from 2018.
Multi-Sensory Interface, Learning the Basics of Trigonometry
Maria Elena Errázuriz, School of Design, Universidad del Desarrollo, Chile
The goal of this project was to build a device to enhance student learning of trigonometry. It involved designing a Tangible User Interface (TUI) that helped students learn through their senses (see photo above and check out this video). The Bursary Award helped fund prototype construction and Maria Elena's travels to the Seminario de Investigación en Diseño where the project was presented.
Neurophysiological Correlates of Cognitive Design Behaviours
Julie Milovanovic, Graduate School of Architecture Nantes, France
Julie's project explored design learning cognitive patterns in studio environments. She used EEG tracking to study brain activities while designing (see image below). The DRS Bursary Award helped fund a trip to the Depict Lab in Sweden, where Julie explored neuro-cognitive design science and conducted a pre-test for her project.
Crisis|Wellbeing in the Emergency Department
William Wang, Royal College of Art, UK
This project explored the mental health patient journey in the Emergency Department of Charing Cross Hospital, London. William collaborated on the redesign of a high-risk mental health patient room (see image below). The Bursary Award funded production of research and collaboration tools like a card deck and 3D model.

Above left: Eye-tracking data and emotions during building design, Julie Milovanovic | Above right: New patient room, William Wang
The 2019 DRS Bursary Award deadline is 23 September. Visit the Bursary webpage for more information, to download the application form and to see project reports from previous winners.
Author
Robin Roy, DRS Student Research Bursaries Coordinator
---