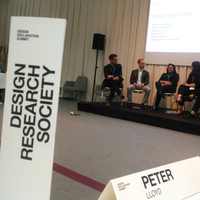 DRS Attends Design Declaration Summit, April 2019
The DRS attended the second Design Declaration Summit in St. Étienne, 2-5 April 2019. International delegates from a diverse range of design related organisations were represented, including the UK Design Council, the national Danish Design Centre, the Commonwealth Association of Planners, Architecture Sans Frontières, as well as a number of Universities and design schools.
This was technically the pre-summit which arranged a series of activities in preparation for the full summit, planned for 2021. These activities centred around three workstreams:
Establishing metrics and collecting data and case studies to more effectively communicate the value of design

Supporting development of National and Regional Design Policies

Fostering development, recognition, support and funding for design education and research, including development of new formats for design education curricula.
It was felt by the DRS Council that the Summit was an important event to attend - not simply because the Society was one of 18 original signatories to the original Declaration, but also to ensure that design research and design researchers in particular were represented. It turned out that this was an important opportunity to do so.
Presentations in each workstream demonstrated the breadth of global activity that relies on, or is affected by, design. At this scale, the synergies with the UN Sustainable Development Goals were noted by a number of presenters. The values in the original Declaration were referred to regularly, albeit with only a few delegates noting just how difficult it is to confront the practical reality of ethics in design.

The range of discussion within each workstream attempted to identify practical progress that could be made prior to the main summit in 2021. This is, as anyone who has hosted such an event will know, the hard part - talking and agreeing on matters is one thing but translating this to tangible action is quite another. The DRS, with a few other organisations, called for a design prototyping approach to elicit outputs and act as a catalyst to make progress. We await the outputs from the Pre-Summit and will share these with members as soon as they are available.
The DRS was represented at the second Design Declaration Summit by Peter Lloyd, Acting Chair, and Derek Jones, Communications Officer and acting PedSIG representative.
The Design Declaration Summit website can be found here: http://www.designdeclaration.org/
---