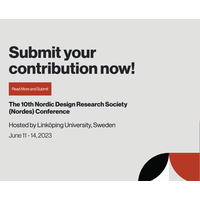 The deadline for the call for contributions to Nordes 2023, THIS SPACE INTENTIONALLY LEFT BLANK, is coming up on the 12th of December. Find more information on how to submit below!
The 10th Nordic Design Research Society (Nordes) conference
Hosted by Linköping University, Sweden
11-14 June 2023
A blank space – a silence, pause, interstice, gap, in-between, opening, punctuation, negative space – can be deliberately or incidentally devoid of content. A space left blank is as much an invitation to notice the void and the structure that surrounds it, as it is a question as to why and how they are perceived. Such absence can remind us to seek out conscious or unconscious intentions hidden in plain sight. Philosophies and worldviews that acknowledge the importance of 'absence', 'emptiness' or 'nothingness' consider everything to be relational, fluid, dynamic and 'in-between', rather than the binary dualism that linger from Cartesian constructs.
Do we pay these blank spaces enough attention, as integrated parts of design practice and design research?
A blank opening can be an invitation for exploration, or pointing out areas in need of alternative interpretations, knowledge, and ways of being. What resistance is there to clearer sensemaking, obscuring the messy co-existence of multiple views? What are omitted or unnoticed dimensions that are invisible, ambiguous, tacit, or formless, or dismissed as passive, paradoxical, incoherent? How ready and receptive can design be to reconsider values and patterns we follow in our everyday living?
The NORDES 2023 conference explores design practice and design research from the perspective of what is deliberately left blank. In what ways does design research recognise empty spaces? How can these spaces be understood and how to respond to them? How does design research make meaning of that which is blank?
We invite you to explore and share your interpretation of what it means to leave a space intentionally blank. We want you, and our community, to collectively shape what the blank space of NORDES 2023 could be.
Here are topics and approaches that may provide inspiration and framing for your contributions:
- ABSENCE: Gaps in research – filling a void? Innovative methods, processes, and designs. The use of different forms of blanks in practices.
- TACIT KNOWLEDGE: Visualising or bringing forth the currently non-outspoken, including realms and practices that escape language.
- CONNECTING THE DOTS: Articulating a shape from seemingly unrelated thoughts, interpreting loosely distributed intentions.
- INCLUSION: Designs that invite, involve, gather. Openness for other worldviews and practices besides the traditional, or otherwise exploring the blanks in relation to plurality.
- REFLECTIONS: Perspectives on design research and practices, contributing to the messy coexistence of multiple interpretations.
- BEYOND APPEARANCES: Research and practices that surprise or change perspectives.
- QUESTIONING EMPTY SPACES: How and why should we do things differently? How does populating an empty space challenge or improve things?
- CLEARING OUT: To be able to engage in new realms, there needs to be space for it. What are the issues that need to be cleared out?
Submission formats:
- Full papers
- Exploratory papers
- Workshops
- Doctoral Consortium
Submissions to all categories receive peer review. Full and exploratory papers are subject to a double-blind, peer review process, and accepted full and exploratory papers will be published through the online DRS Digital Library. Publications will be available as open access during and after the conference.
The event is being organised and hosted by Linköping University.
Key dates and deadlines
Deadline papers: 12 Dec 2022
Deadline workshops: 30 Jan 2023
Deadline Doctoral Consortium contributions: 30 Jan 2023
Notification to authors: 31 Mar 2023
Final contribution submissions: 21 April 2023
Conference date: 11-14 June 2023
---