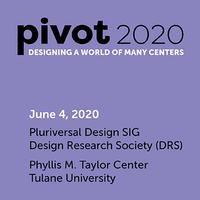 Conference Report: Pivot 2020
Pivot 2020 invited participants to consider how to design a 'world of many centers and voices.' We asked questions like: What does a world in which many worlds fit look like? What is needed to create this reality? Who is needed to support this change? Pivot 2020 aimed to highlight diverse voices, perspectives, epistemologies, and ontologies with an emphasis on design and social innovation.
The event was initially planned as an in-person conference in New Orleans, USA. This location felt appropriate given the city's diversity, history, and proximity to the Caribbean, Latin America and 'other worlds.' Then COVID-19 arrived and forced us to change our plans and adapt to an online format. We worked through the disruption and uncertainty of the pandemic and invited people to join us for a day of virtual conversations. We always wanted to host a more inclusive conference and the online format helped us achieve this goal! It allowed for greater diversity of participants: we had presenters and stories from many countries—e.g., Indonesia, India, Kenya, Brazil, the Caribbean, Australia, New Zealand, Uruguay, Japan, Canada, several European countries, the Middle East, and the United States.

Above: Screen shot of participants from across the world
The event took place on 4th June 2020 on Zoom. We had a full day of presentations and discussions—8 sessions and more than 40 presenters stretched over 11 hours. Since we chose not to have parallel sessions, everyone watched the presentations together and engaged in conversations. The sessions covered themes such as 'the Pluriverse is now,' 'decolonizing design education,' 'unlearning hegemony,' 'digital and emerging tech,' 'decentering futures,' and more.
There was significant debate among the presenters and audience about the need to create epistemologies and methods for design theory, practice and education that can help design move away from its traditional Eurocentric approach and move toward more plural forms of participation. Conference attendees proposed new courses for a pluriversal design education, challenged each other to diversify their references, and shared suggestions for a more diverse reference list. These ideas and discussions will be made available through the Pluriversal Design Special Interest Group.
One of our biggest challenges when planning the event was to simulate a conference atmosphere. In our view, the social and interpersonal aspect at conferences is almost as important as the presentations—it enables new connections, meaningful encounters between people thinking along the same lines, and the formation of a community with shared interests. To support this social aspect, we divided Pivot 2020 participants into occasional breakout rooms to chat and meet each other. We also had a very active chat-box where some of the most meaningful connections were formed. We were positively surprised by the level of engagement in these chat-box discussions!
Many of the presenters sent us pre-recorded video presentations. These videos are available on the DRS YouTube channel and the Taylor Center's webpage, enabling further post-conference engagement. Pivot 2020 conference proceedings will be published later this year.
Authors
Dr. Renata M. Leitão, Conference Co-chair and Pluriversal Design SIG Convenor; Instructor, OCAD University
Dr. Lesley-Ann Noel, Conference Co-chair and Pluriversal Design SIG Convenor; Associate Director for Design Thinking for Social Impact, Phyllis M. Taylor Center for Social Innovation & Design Thinking, Tulane University
---