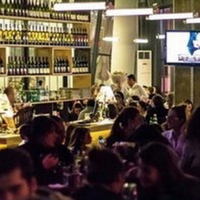 All Work and No Play at Learn X Design 2019?
Learn X Design 2019 kicks off on July 9th at the Middle East Technical University (METU) in Ankara. METU has lots of celebrate—it's the 50th anniversary of their first ID course and the 40th anniversary of their separate ID program. In honour of Learn X Design and these milestones, conference chairs Naz A.G.Z. Börekçi, Fatma Korkut and Dalsu Özgen Koçyıldırım have planned some fun activities for participants.
There's a welcome reception on July 9th in the METU Faculty of Architecture garden. This will be followed by the PhD Pit-Stop party at Hayal Kahvesi in downtown Ankara (pictured above). The following day, there's an optional traditional Turkish dinner at the Kınacızade Restaurant and a Turkish bath experience at the Şengül hammam. The conference dinner will be on July 11th at Wyndham Ankara, and delegates will have the chance to try out their belly dancing skills!
More information about Learn X Design social events is available here.
---