Registration for this event has passed
This two-day symposium brings together leading designers, academics, journalists and theorists to discuss ethical approaches for design in response to some of today's most urgent challenges.
What role should design play in today's complex world? What tools and strategies are available for design to engage with the ethical conundrums of the present? And what type of ethics does design need most?
This two-day conference invites citizens, designers, theorists, activists and educators to consider what design ethics, and design as an ethical discipline, should look like in the 21st century. On the first day of the symposium, leading designers and theorists discuss some of the challenges facing ethical design today, including: the ethics of participatory design; design's role in the public sphere; the relationship between objects and complex networks; and design's relationship to the non-human.
On the second day, participants are invited to take part in a series of 'applied ethics' discussions, focusing on specific case-studies related to migration, assisted suicide, political activism, artificial intelligence and identity. Through the course of the day, participants will be introduced to different tools and ways of framing complex ethical challenges within design practice.
Speakers include: Eduardo Staszowski, Kate Davies & Liam Young, Mahmoud Keshavarz, Adam Thorpe, Lucy Kimbell, Shana Agid, Jeremy Kidwell and many more.
This symposium builds on the publication of Tricky Design: The Ethics of Things (Bloomsbury 2019) and is a collaboration between University of the Arts London, the Design Research Society and the Design Museum.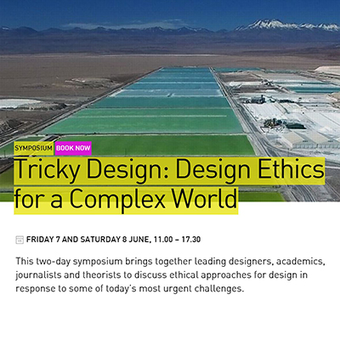 Design Museum, London, UK