Register Now!
Or paste this link in your browser's address bar: https://dtrs13.net.technion.ac.il/
The Design Thinking Research Symposium (DTRS) series of meetings was launched at TUDelft in 1992. It aims to research design thinking on the base of real world evidence. Each of the past 12 meetings has dealt with a specific topic and in the next 13th symposium we will look at the expansion of what is understood as design (and design thinking), whereby many activities by professionals from different disciplines are seen as included in the term 'design'. Participants in these undertakings consist of those who were educated in core design fields and others, including managers, marketing professionals and all sorts of other experts. The terms 'Specialist Designer' and 'Generalist Designer' have been coined to try to distinguish between those trained in traditional design disciplines and other participants in design initiatives. Various modes of team and group work are involved, such as collaboration, cooperation, consultation and more.
The move from design thinking as the way in which designers think to Design Thinking as a method embraced by the business world has brought many new actors to the table, and it is no longer clear what exactly design means and how well it is served by the expansion of its boundaries. In DTRS13 we would like to investigate precisely these questions. What are the new frontiers design is demarcating? Do they have the capacity to sustain the missions of design? What do we gain from this expansion of frontiers? What do we lose, if something is lost? Can we find a new signification for the designer, which will be wider than the traditional one but narrower than "everybody is a designer"? We invite design thinking researchers to explore issues related to these questions, based on evidence.
We invite you to the Technion in the spring of 2021 to participate in an event that promises to be challenging and fascinating. Be part of it! Haifa is a multi-cultural city on the eastern shore of the Mediterranean Sea. Spring is the best time to visit!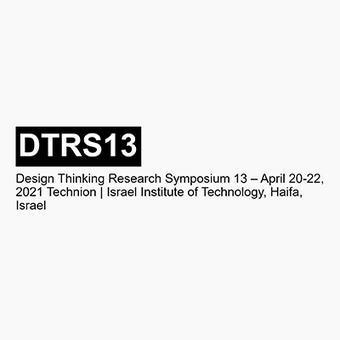 Israel Institute of Technology, Haifa, Israel