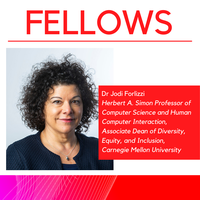 The DRS would like to congratulate our newest Fellow, Dr Jodi Forlizzi, Herbert A. Simon Professor of Computer Science and Human Computer Interaction and Associate Dean of Diversity, Equity, and Inclusion in the School of Computer Science at Carnegie Mellon University. We spoke with Jodi about her work in design research and what it means to be a Fellow of the Society.
How do you do design research? What is your work about?
Design research takes many forms, but my work seeks to draw out knowledge contributions from the work designers do naturally: understanding the current state, then codifying that understanding in the design of products, services, and systems that will lead to an improved future state. In my career, I have helped to establish design research as a legitimate form of research that is different from, but equally as important as, scientific and human science research. My current research interests include designing human-robot interaction as a service and human-AI collaboration in the domains of eldercare, accessibility, human assistance, and overall wellbeing.
How has the DRS supported your career and/or research in design and design studies?
The DRS has played a role in my career in a number of ways: First, in the conferences that bring experts from all over the world together to advance design research; second, in a community of collaborators; and third, in having the privileged opportunity to serve on the Executive Committee to help conceive the future of the DRS.
What are some of the benefits, in your view, of becoming a DRS Fellow? Why might others want to become a DRS Fellow?
I am excited to join this group of leaders! My hope is that my presence will help indicate DRS's commitment to diversity in membership and approaches to design research.

Where can people find out more about you and your research?
You can visit at my website or take a look at my Google Scholar page.
Did you know that we have made changes to our Fellowship nomination process? The process now allows for both self-nomination and nomination by any current member or Fellow of the Society. Head here to find out more about how to apply for a DRS Fellowship.
---