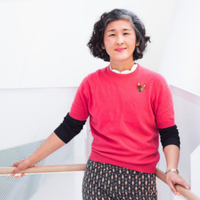 This Much I Know (About Design Research): Yoko Akama
This Much I Know (About Design Research) is an interview series that profiles interesting DRS members. This month we spoke with Yoko Akama about her socially and culturally-engaged design research and thoughts on the DRS conferences. Akama is associate professor of communication design at RMIT University in Melbourne, Australia.
What's your research about?
One of my major research projects centres on Indigenous self-determination and governance in Australia. It's a participatory design project with members of the Wiradjuri nation. We are designing various mechanisms to celebrate Wiradjuri sovereignty and cultural renewal.
What have you found?
This project has really affected me at a personal level and as a design researcher. It's sensitised me further to power structures, bias and limitations in design knowledge and research. This includes colonialism and whiteness within the field.
Can you give an example?
Well, think about the blind peer review process. Within many worldviews, who you are and what you say brings credibility and accountability. So, this anonymity and objectivity preferred in design research becomes problematic when it's used to judge other forms of knowledge.
Did you attend DRS2018 in Limerick?
Yes - and it was really exciting. I noticed a greater acceptance for different design knowledge and voices, which is a sign that design research culture is diversifying. I hope this continues.
What presentations stood out?
Some PhD students and early career researchers are doing excellent work. I'm especially interested in feminist design research, 'designs in another name' and work addressing the Global South.
What are your thoughts on DRS2020 in Brisbane, Australia?
I think conferences should be shaped by agendas that are pertinent to the places where they're hosted. I've noticed a strong settler mind-set in Australia. There are also important conversations taking place on Indigenous treaties. It would be brilliant if these issues were addressed during the conference.
Interested in getting involved in this interview series? Tell us about your work or nominate another researcher. You can contact Isabel at editor@designresearchsociety.org.
---