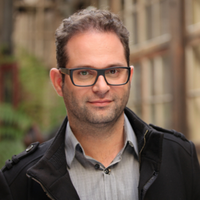 This Much I Know (About Design Research): Stéphane Vial
This is the third interview in a series for the DRS online called This Much I Know (About Design Research). Each article in this series profiles an interesting DRS member to highlight their work and reflections on design research. This time we spoke with Stéphane Vial about his work with Francophone design research communities. Vial is an associate professor of design at the Université de Nîmes in France, and is the author of many esteemed books and articles.
What inspires your work on building French design knowledge?
Like many things, design research is anglocentric. It's important to foster dialogues and research communities in other languages. Further, each language offers its own contributions. For example, French design research often draws on French intellectual traditions.
So how have you contributed to French-language design research?
I'm working to help develop Francophone design research through my publications and community engagement. I wrote an introductory book on design theory and history called Le Design (design). I co-founded Sciences du Design (sciences of design), the first design research journal in France, where I am now editor-in-chief. I also moderate a popular French-language design research mailing list at http://www.recherche-design.org.
What can other design researchers do to help your project?
Write in other languages! Sciences du Design accepts articles from Francophones, as well as new papers translated to French. It would also be great to see more localised panels at conferences and special issues of journals published in different languages.
What is your design research speciality?
I take a philosophical approach to the digital revolution, exploring how we experience design and the effect of the digital on perception. One of my most read books is L'Être et l'Écran (being and screen), which is currently being translated to English and will be part of the MIT Press' Design Thinking, Design Theory series. Together with Pieter Vermaas, I also co-edited Advancements in the Philosophy of Design, which was just released and will be introduced at the DRS2018 conference.
How do you view the DRS?
The DRS is the origin of design research in Europe and represents research excellence. The conferences are also a great opportunity to meet other design researchers. For example, I met my new collaborator Nynke Tromp at DRS2016!
What design researchers are you following now?
I'm really inspired by Nynke Tromp's work on social design and Tomás Dorta's exploration of augmented co-design and research through design.
What's next?
I'm excited to announce a new book project called Vocabulaire du Design (design vocabulary). It will be a catalogue of design concepts and definitions, published by the Presses Universitaires de France (University Presses of France).
Have you got an inspiring quote to end on?
"La fin ou le but du design est d'améliorer ou au moins de maintenir l'habitabilité du monde dans toutes ses dimensions" (The end or the goal of design is to improve or, at least, maintain the liveability of the world in all its dimensions) - Alain Findeli
Interested in getting involved in this interview series? Tell us about your exciting work or nominate another researcher. You can contact Isabel at editor@designresearchsociety.org.
---