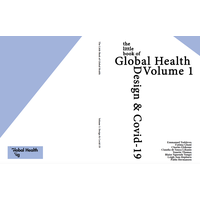 The first in the series, the Little Book 1 on Global Health, has now been released. The Little Book is an outcome of the collective efforts of the Design Research Society (DRS) Special Interest Group (SIG) in Global Health. It includes contributions for several DRS members and researchers on health across the globe.
This Little Book focuses on how the design research community is tackling Covid-19 across different parts of the world. It explores how and why design is uniquely positioned to contribute to the global pandemic relief effort. The first volume in this series, the Little Look presents the Global Health Special Interest Group and what it stands for. It then presents, through eight case studies, different ways in which design research is addressing some of the challenges posed by Covid-19 to our individual lifestyles and society.
To view and download for free the Little Book click here.
---
1 Little Books are small, 30-50 page, A5-size documents available predominantly as an online PDF. The text is an accessible guide for a range of audiences. It provides interfaces between policy, public audiences and communities, and guidance for practical implementation by bringing together rigorous academic research and real world case studies.
---