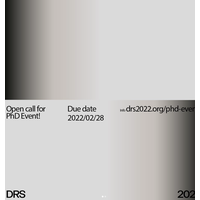 The PhD Event is proposed as a series of activities throughout the DRS2022 conference for the PhD community. The series of activities will offer a supportive and engaging environment for PhD researchers from around the world to share their research, experiences, and struggles of conducting doctoral research with the aim of strengthening the sense of belonging to the DRS PhD community.
The PhD Event welcomes all types of Doctoral work (e.g., theoretical, practice-based), across a diversity of topical issues and at any stage of their PhD journey. Participants will have the opportunity to vocalise and discuss their research among peers and academics using traditional and non-traditional formats, receive feedback from research leaders, and reflect upon the DRS conference content to challenge their own work. Moreover, the PhD event will allow a selected group of interested final year PhD researchers to develop mentor skills.
The PhD Event will be held as a hybrid event, including a mix of keynotes, seminars, hands-on workshops, impact events, publication work, and social events distributed across different time zones. The PhD event will start with a full day of thought-provoking sessions that will set the tone to make the most of the DRS2022 conference programme, followed by other complementary activities throughout the rest of the conference.
PhD researchers interested in participating need to submit an expression of interest using the template via the ConfTool system. Participants will be selected based on the clarity of their application, their motivation to participate and expected contributions. We aim to form a diverse group of PhD students in terms of location, doctoral year, areas of interest and type of research.
The selected participants will be informed of their acceptance and should provide additional material that will be useful during the conference (e.g., profiles, images, audio). A summary of the PhD Event showcasing the participants' research and contribution to the event will be published as part of the DRS2022 proceedings.
You can find more information and download the PhD Proposal Template here: https://www.drs2022.org/phd-event/
Important Dates
Submission deadline
28th February 2022
Notification of decisions
30th March 2022
Training (for those participants acting as mentors or hosts)
June 2022
Final submission (pre-material)
15th June 2022
Conference dates
25th June- 3rd July
---