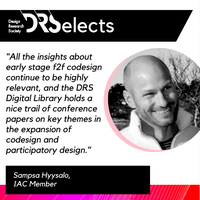 To share research interests, put faces to names within the DRS governance and highlight contents of the Digital Library, the Design Research Society is launching a new series called 'DRSelects'. As part of this series, a DRS International Advisory Council or Executive Board member will share a selection of pieces from the Digital Library that relate to any subject of their choosing. Through their exploration, they will share a few words about the works they've chosen and how it relates to their research and broader DRS initiatives. In this edition, we have reflections from International Advisory Council Member Sampsa Hyysalo.
Expanding participatory design and codesign in time, space and scope
Design researchers and practitioners alike have come to grasp that it is a great idea to involve users and other stakeholders in design. The practice of conducting codesign in face-to-face workshops supported by work analysis, visioning and design ideation tools became mainstream during the first decade of this millennium. But just as it did so, codesign and participatory design already started to change for good. All the insights about early stage f2f codesign continue to be highly relevant, and the DRS Digital Library holds a nice trail of conference papers on key themes in the expansion of codesign and participatory design. Botero et al. 'Expanding Design Space: Design-In-Use Activities and Strategies' from DRS 2020 opens up the themes of why and how participatory design should and could be moved from early concept design to continued design-in-use at the sites of use. For one, this addresses the common dilemma in participatory design efforts: that they tend to initiallly thrive but then wither once the designers leave – so maybe the designers should not leave! It equally addresses users' difficulties during concept design in anticipating how exactly their work (or everyday life) ought to be changed – so maybe instead we should give them tools to try in their own settings so they can elaborate better during the codesign process! Continuing this line of work, Saad-Sulonen et al.'s 2021 Nordes paper 'On DIY cloth face masks and Scalar relationships in design' traces collective design through a taxonomy of what all users have been found to design during use, and in so doing, shows the power of temporally, spatially and actor-wise expanded design approaches.
Parallel to the collective design being organized differently in time and space is of course the whole movement of designer-user collectives in digital and digital-physical design. The DRS Digital Library holds great many good examples of this from different areas of design, but I decided to highlight a recent piece from 2020 DRS by Särmäkari & Vänskä 'Open-Source Philosophy in Fashion Design: Contesting Authorship Conventions and Professionalism' as it shows how these alternative ways of organizing (co)design are now invading even the last bastions of authorship-prone-design.
Finally, the expansion of participatory design has not only been in how it is re-orchestrated, but also in the nature of issues it addresses. Codesign and participatory design have been used to solve problems and raise issues in countless empirical domains. But recently, they have crossed with long-term sustainability transitions that require typically hundreds of intertwined societal actions to proceed. Such change cannot be designed. There is no one solution or any one vision that will fix the problems. Yet design has much to contribute as the DRS 2018 piece by Gaziulusoy & Erdoğan 'design as a catalyst for sustainability transitions' illustrates. Furthermore, codesign for transitions has proven particularly vital in orchestrating diverse stakeholders in knowledge sharing, pathway building and envisioning across perspectives and competencies in typically several months long serial processes. An early piece on this work can be found in the same DRS 2018 proceedings Hyysalo et al. (2018) Catalysing Pathway Creation for Transition Governance.
I purposefully made all my five picks from DRS Digital Library from among the works from Aalto University, just to demonstrate the power of DRS Digital Library – there is so much good material there that most of the main contours of any changing subfield can be represented from just the contributions of a single school.
Sampsa Hyysalo is professor of codesign at Aalto University, department of Design. His research examines designer-user relations in sociotechnical change. This includes interest in areas such as participatory design, codesign, open and user innovation, open design, peer knowledge creation, citizen science, and particularly their deployment in furthering environmental sustainability. Sampsa is DRS international advisory council member and regularly chooses DRS conferences and affiliated journals as the venues to present and publish his work.
Botero, A., Kommonen, K., and Marttila, S. (2010) Expanding Design Space: Design-In-Use Activities and Strategies, in Durling, D., Bousbaci, R., Chen, L, Gauthier, P., Poldma, T., Roworth-Stokes, S. and Stolterman, E (eds.), Design and Complexity - DRS International Conference 2010, 7-9 July, Montreal, Canada. https://dl.designresearchsociety.org/drs-conference-papers/drs2010/researchpapers/18
Gaziulusoy, A., and Erdoğan Öztekin, E. (2018) Design as a Catalyst for Sustainability Transitions, in Storni, C., Leahy, K., McMahon, M., Lloyd, P. and Bohemia, E. (eds.), Design as a catalyst for change - DRS International Conference 2018, 25-28 June, Limerick, Ireland. https://doi.org/10.21606/drs.2018.292
Hyysalo, S., Perikangas, S., Marttila, T., and Auvinen, K. (2018) Catalysing Pathway Creation for Transition Governance, in Storni, C., Leahy, K., McMahon, M., Lloyd, P. and Bohemia, E. (eds.), Design as a catalyst for change - DRS International Conference 2018, 25-28 June, Limerick, Ireland. https://dl.designresearchsociety.org/drs-conference-papers/drs2018/researchpapers/71/
Joanna Saad-Sulonen, Andrea Botero, Mille Rosendahl Hansen (2021) On Diy Cloth Face Masks And Scalar Relationships In Design, No 9 (2021): Nordes 2021: Matters Of Scale, Issn 1604-9705 https://dl.designresearchsociety.org/nordes/nordes2021/exploratorypapers/15/
Särmäkari, N., and Vänskä, A. (2020) Open-Source Philosophy in Fashion Design: Contesting Authorship Conventions and Professionalism, in Boess, S., Cheung, M. and Cain, R. (eds.), Synergy - DRS International Conference 2020, 11-14 August, Held online. https://dl.designresearchsociety.org/drs-conference-papers/drs2020/researchpapers/46/
---