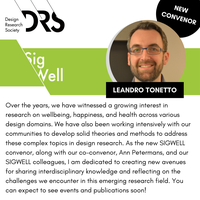 The DRS Special Interest Group SIGWELL is pleased to announce that Dr Leandro Tonetto is taking on the role of Convenor.
Prof Dr Ann Petermans, now Co-Convenor, writes of her time as Convenor,
As the DRS's Special Interest Group on Design for Wellbeing, Happiness and Health, SIGWELL has always had an interest in advancing knowledge, and in the development and application of design research in the broadest sense to improve the personal and societal wellbeing, happiness and health of people.
SIGWELL was reinvigorated in the course of 2017. Since then, together with our international steering board members, I'm particularly proud of various initiatives we set up together:
(i) the conference we organized in 2019 at TUDelft, entitled 'Wellbeing by design: teaching practices & ethical reflections'
(ii) the contributions to DRS Conferences that we developed over the years, from workshops over editorials and the composition of theme tracks focusing on design for wellbeing, happiness and health, filled with numerous and very interesting conference papers
(iii) contributions of our SIGWELL team to academic publications, with the publication of the Routledge book entitled 'Design for Wellbeing: an applied approach' as an important milestone.
Together with our new convenor, Leandro Tonetto, I'm dedicated to contribute to SIGWELL's further growth in the years to come!
On taking the new role, Dr Tonetto has said,
'Over the years, we have witnessed a growing interest in research on wellbeing, happiness, and health across various design domains. We have also been working intensively with our communities to develop solid theories and methods to address these complex topics in design research. As the new SIGWELL convenor, along with our co-convenor, Ann Petermans, and our SIGWELL colleagues, I am dedicated to creating new avenues for sharing interdisciplinary knowledge and reflecting on the challenges we encounter in this emerging research field. You can expect to see events and publications soon!'
Find out more about SIGWELL and how to join here: http://drs.silkstart.com/cpages/wellbeing-happiness-sig
---