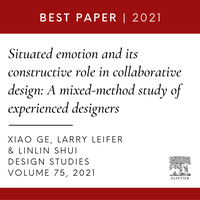 Design Studies Best Paper Award 2021
We are pleased to announce the winner of the Design Studies Award for the best paper published in 2021: 'Situated emotion and its constructive role in collaborative design: A mixed-method study of experienced designers' by Xiao Ge, Larry Leifer, and Linlin Shui.
The Design Studies best paper award is made annually, jointly by Elsevier Science and the Design Research Society (DRS). The criteria for the Award, in order of priority, are: contribution to the development of the field of design research, originality of research or scholarship, breadth of relevance, and clarity and style of presentation.
Nominations for the Award are made by the journal Editors and the winner selected by the Editor-in-Chief and the Chair of the DRS.
In recognition of their outstanding contribution to advancing knowledge in the field of design studies the nominated papers have been made available as an open-access Article Collection until March 31, 2023.
Nominations for the Design Studies Best Paper Award 2021 were:
Xiao Ge, Larry Leifer, Linlin Shui
Situated emotion and its constructive role in collaborative design: A mixed-method study of experienced designers
Volume 75, https://doi.org/10.1016/j.destud.2021.101020
Björn Fischer, Britt Östlund, Alexander Peine
Design multiple: How different configurations of participation matter in design practice
Volume 74, https://doi.org/10.1016/j.destud.2021.101016
Ton Otto, Jennifer Deger, George E. Marcus
Ethnography and exhibition design: Insights from the Moesgaard inaugural
Volume 74, https://doi.org/10.1016/j.destud.2020.100989
Milene Gonçalves, Philip Cash
The life cycle of creative ideas: Towards a dual-process theory of ideation
Volume 72, https://doi.org/10.1016/j.destud.2020.100988
M. Carolina Escobar-Tello, Krisna Ruette-Orihuela, Katherine V. Gough, Javier A. Fayad-Sierra, Irene Velez-Torres
Decolonising design in peacebuilding contexts
Volume 73, https://doi.org/10.1016/j.destud.2021.101001
Julie Milovanovic, Mo Hu, Tripp Shealy, John Gero
Characterization of concept generation for engineering design through temporal brain network analysis
Volume 76, https://doi.org/10.1016/j.destud.2021.101044
---