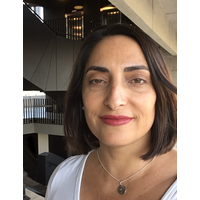 With DRS Board and International Advisory Council (IAC) elections coming up, we sat down to speak with IAC Member Catalina Cortés about her work and her role as part of the Council. Keep reading to find out more about Catalina's work in the Design and Research in Latin America Network and the IAC.
How do you do design research? What is your work about?
I work as part of the research team at the Design School of Universidad del Desarrollo in Chile. The projects I lead are related to the influence of design processes and resources in facilitating teaching and learning.
Currently, I am working on the design of a tangible interface to teach complex concepts to school children by incorporating the findings of studies on embodied cognition into the design of the learning experience.
What is your role as part of the International Advisory Council? What initiatives are you part of?
I think that my main role is to represent the region of South America and our vision and experiences about design research. I have participated in various initiatives. Last year I was part of the production team of the first version of the Festival of Emergence and presented a moment about health and design in Latin America. We formed the DILA network (Design and research in Latin America) as a way to gather Latin American design researchers together, which also includes people worldwide interested in knowing more about our projects and context. Today we are working with the Global Health SIG and Imagination Lancaster on the design of a new edition of the Little Health Book collection dedicated to design and health in Latin America where we will present cases of design projects from various countries of the region. I am also working as the chair of the workshops section of DRS2022 Bilbao and looking forward to the conference in June!
How do you see the IAC evolving in the next few years?
I imagine the IAC being more diverse in terms of its participants' geography. and culture and incorporating more visions about design and design research from industry, organizations, and policymakers. I also think that as time passes, the IAC members will assume more responsibilities in the DRS and lead a larger number of initiatives.
Why would you encourage other DRS Members to join the IAC?
I would say that it is a great opportunity to get to know amazing people and be involved in interesting and motivating international collaborative work. It is a good platform to contribute to design research and to position design as a relevant discipline in countries in which design is not yet well understood.
Where can people find out more about you and your research?
https://diseno.udd.cl/persona/catalina-cortes-loyola/
https://www.researchgate.net/profile/Catalina-Cortes-6
---