Register Now!
Or paste this link in your browser's address bar: https://www.congress.open-source-festival.de/
After over ten years of Open Source Festival, we continue the idea of ​​interdisciplinary creativity and proudly present you our first bonus level in 2018: the Open Source Festival Congress on the festival's day, which not only sets itself apart from other congresses in the location.
With exciting keynote speeches, inspiring panels and in-depth workshops, we play on the festival grounds and create an extraordinary projection area for new ideas in the open air. Of course, it's also about music, but also about design, philosophy, politics, digitization, architecture, biology and much more - mainly creative, pulsating and inspiring!
The festival
Open and diverse, dynamic and energetic, experimental and substantial. 13 years of work - over hill and dale. But the courage to be different pays off.
With the Open Source Festival we do a lot different - and much right. We offer pop music formats and expressions a forum that is so rare. We are sharpening our own profile and putting together a unique festival program year after year. We also like to try new things - this year we are putting all our inspirations and experiences in a blender and presenting the Open Source Festival Congress - open-air and right on the festival grounds.
Creativity, Innovation & Economics
No creativity no innovation no economy. A clear relationship, a simple equation. How do we keep the spring bubbling? With a steady change of perspective.
Creativity. A big word with a lot of power. And so the expectations of the creative thinker are quite high. But how is one actually creative - in very different areas and sectors? We look, interdisciplinary, outside the box, from all directions and in different constellations.
Formats & proximity
Slip a bit. Say something. The speaker to touch and not as pure frontal PA. Learning from each other and thinking together. Power, promise!
Just yet on the show stage, now in the beer garden and together in the artist's wardrobe. Each format gets its appropriate place. Every visitor has the right seating and standing space. Each speaker has his podium in front, on or in the audience. You do not meet here only once, but at least two, if not three times a day. Just like at a real festival, where encounters inspire and friendships arise.
Authenticity
Said and done. What we talk about is what we practice every day. Our playground is creativity. We are good at that and we like to share it.
Art, performance, film, gaming, design, architecture, graphics, fashion, photography and of course music. They all enrich our festival, our working world and our everyday life. And we know how much openness and effort it takes to gain new perspectives. But every second of this effort is worth it. Because standstill is not an option! And boring.
Festival Location
100% true: We are in the countryside. And of course have perfect sunshine. If not, then we have a roof. And transparent rain covers.
Fresh air stimulates the blood circulation and thus the activity of the brain. Sunshine illuminates the mind and thus the sociability. So why not an open-air congress? We invite you: on July 13, 2018. On the site of the Open Source Festival. In the middle of nature, pure idyll, but still close to the city. With green grass, tribune, mosquitoes, butterflies and flowers. And delicious Brainfood that tastes even tastier than inside.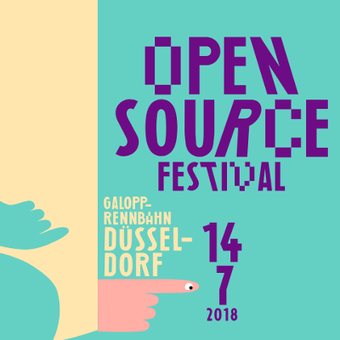 Galopprennbahn Dusseldorf, Germany