Registration for this event has passed
It is a pleasure to invite you to iDOC 2019 The conference is organized by the Design Out Crime and CPTED Centre, the Sellenger Centre, ECU and the International CPTED Association. It will take place at Edith Cowan University, Joondalup, WA on 13-15 February 2019.
iDOC 2019 is the 10th anniversary of the inaugural iDOC 2009 International Design Out Crime and CPTED Conference. The timing of iDOC 2019 is at a time of very rapid change and expansion in CPTED and Design Out Crime particularly improved access to detailed crime statistics and new technologies of surveillance, access control and social control; awareness of potential for adverse consequences of CPTED; the extension of CPTED into counter-terrorism; radical new kinds of analyses of CPTED in health, gender, equity, indigeneity, etc; and the professionalisation of CPTD in terms of training, certification and standard processes. In parallel, iDOC 2019 supports the recent focus worldwide on developing CPTED for night time economies.
The themes of iDOC 2019 will be New Directions in CPTED and Night Time Economies and CPTED.
Topics of interest
Night time economy CPTED
Crime data and evidence-based CPTED
New technology CPTED (e.g. face recognition, virtual following, 360deg 24/7 surveillance, biometric access control, drones...)
Risk vs threat in CPTED
Counter terrorism and Crowded Places CPTED
Event CPTED
CPTED and gender
Social equity issues and CPTED
CPTED and health
CPTED and social control
CPTED and privacy
Legal and financial liabilities from CPTED
CPTED and economic development
CPTED, young people and public space
CPTED across the life of building developments
Dark side of CPTED (adverse consequences)
Occupational Health and Safety and CPTED
Professional CPTED practices, training and standard processes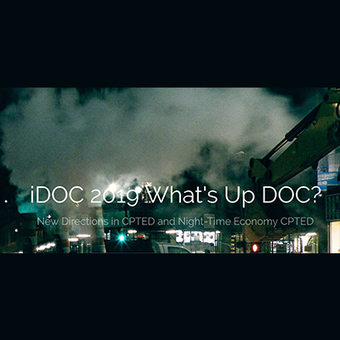 Edith Cowan University, Perth, Western Australia