Register Now!
Or paste this link in your browser's address bar: http://esjp.org/
The theme for this year's conference is Removing Borders Among Disciplines. Engineering as a profession and academic field has existed largely in isolation from other disciplines. We invite authors to explore what author Gloria Anzaldúa defined as the nepantla – the liminal space, the in-between, and the borderlands from which novel insight and inspiration emerges. In our context, this means exploring the spaces and borders that have historically isolated engineering from outside socio-political critiques or academic traditions. Contributions from a broad range of topics and perspectives are welcomed, especially those which address the intersections of the engineering discipline with social justice, feminism, philosophy, epistemology, peace studies, critical theory, and ethics. Our goal is to foster an educational setting where unique insight and revolutionary change can emerge from our community.
ESJP 14, as with other conferences, will be an interdisciplinary academic gathering. We welcome participants from a broad range of backgrounds who would wish to address the conference theme – undergraduate or graduate students, faculty, staff, industry practitioners, educators, and activists inside or outside the academy. We are excited to hold space with all who share a commitment to justice and equity in engineering. ESJP's list of core commitments can be found at this link.
Formats can include:
Individual paper presentations (10 to 15-minute talk + discussion, 30-minute block)
Panel discussions (up to 5 individuals, 60-minute block)
Interactive workshops (60-minute block)
Art, poetry, interactive sessions, zine making, short film, or other creative formats not listed – creative freedom is encouraged!
Proposals should include a title, names of presenters or contributors, proposed format, affiliation, and an abstract of 300 words or less. Deadline for submission is March 1st, 2019.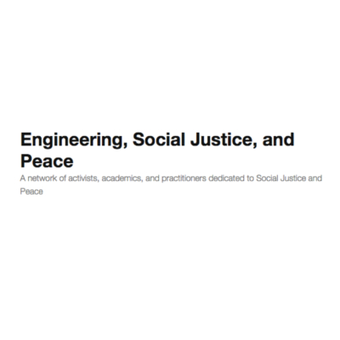 University Binghamton, NY, USA