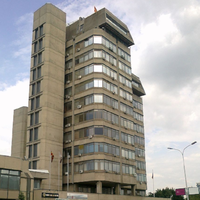 Most buildings in the Republic of Macedonia were constructed following a 1963 earthquake, which heavily damaged the city of Skopje and left 150,000 homeless. After the earthquake, the city effectively became a live test lab for international town planning and architecture. Of all this work, Macedonia is probably best known for its brutalist architecture built during reconstruction in the 1970s and 80s. Buildings in this prominent style include the National Bank (upper left), the Head Post Office (lower left) and the National Hydrological and Meteorological Services (lower right) in Skopje. Examples of Macedonian Brutalist architecture will be on display in an exhibition at MOMA New York later this year.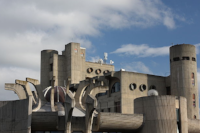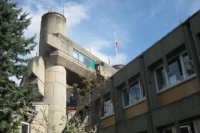 In addition to the unique architectural history in Macedonia, the professional landscape for architects also stands-out. With 3,000 architects and a population of just over 2 million, the Republic of Macedonia is said to have the third highest proportion of architects in the world. For many years, all locally-trained architects would have attended University Saints Cyril and Methodius, home of the only architecture school in Macedonia. However, eight new architecture schools opened after independence in 1991, resulting in a swell of architects in the profession.
Unfortunately, this growth was also accompanied by structural changes to the professional landscape, including the privatization and fragmentation of design and construction companies. This resulted in greater competition, reduced design fees and a lower ability to compete for projects abroad. As a result, only a small proportion of architects actually work in their field.
These economic hardships are not limited to architecture and design. Over 10% of the entire population of Macedonia emigrated between 1998 and 2011, largely driven by 30% unemployment and an average monthly salary of about 300 Euros.
That said, the large professional community and local architecture hold promise. Young people are drawn to the profession because of the relatively low cost to set up a design business and increased ability to work remotely on freelance jobs. The Republic of Macedonia also remains a site for experimentation in architecture, although a recent development project - Skopje 2014 - led to the city being called the 'Capital of Kitsch' in Europe. Finally, much local and international design research focuses on Macedonia, especially the post 1963 Skopje reconstruction. There is potential to build-on this research and strengthen local academic communities.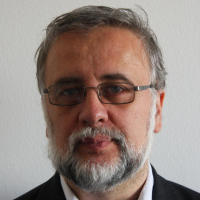 This article was written by Dr. Vladimir Ladinski, Associate Professor in the School of Architecture and Design, University American College Skopje and a member of the DRS.
---